Zurück zur Liste
Nachrichten
5 tips to go bikepacking on EuroVelo 1 – Atlantic Coast Route
Mittwoch, 26. April 2023
If you are planning a cycling trip along EuroVelo 1 – Atlantic Coast Route, then this article is for you. How to plan your route, what clothes to bring, where to sleep... we give you 5 essential tips to keep in mind.
What is bikepacking? It is any cycling trip with at least an overnight. In your home region or worldwide, in the wilderness or along popular routes, every bikepacking trip is different, and so are the ways to prepare for it.
Here we will focus on EuroVelo 1 – Atlantic Coast Route and its 11,050 kilometres (the longest EuroVelo route!) going from North Cape in Norway to Valença in Portugal, crossing the United Kingdom, Ireland, France and Spain. The climate, the geography, and the cycling services can differ greatly from one country to another. This variety means that all the tips are suitable for any bikepacking trip on another EuroVelo route and in general for every adventure. Let's go!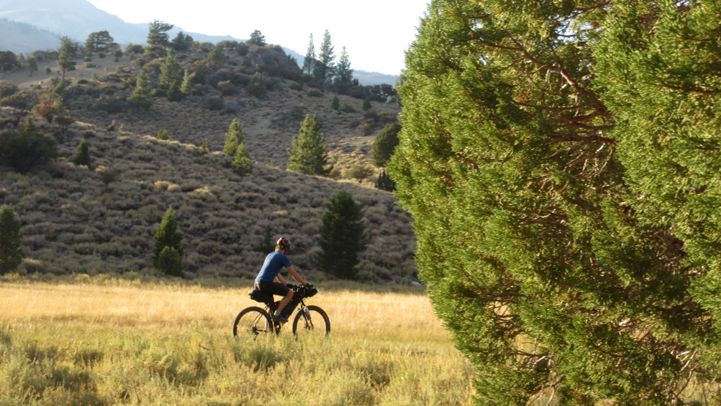 A (flexible) planning
It may seem obvious to most but the first advice is: planning.
Having a general idea of your route, it is important to look for information on the areas crossed. Have a rough idea of your daily sections to plan stops to sleep and eat. Indeed, even if you are fully independent with your own sleeping and cooking gear, resupply stops will be required. Remember that distances between two towns can be huge, especially in some remote areas like Norway. Planning is important not to overestimate your cycling capacities and end up hungry and tired. At the other end of the route, temperatures in the south of France, Spain and Portugal can rise a lot during summer, and it could be dangerous to run out of water. In very hot weather, make sure to plan shorter daily sections.
To help you plan your route and not get lost, GPX tracks are available on the EuroVelo website for free.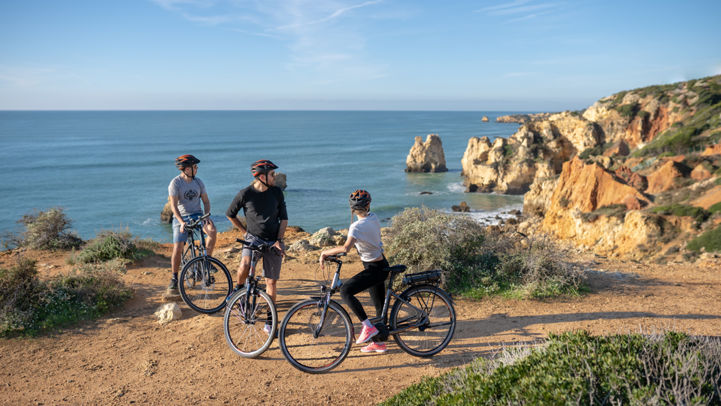 If planning is essential, flexibility is also the key to an enjoyable bikepacking trip. Go at your own pace, and if you don't reach the village you wanted to see today, you will see it tomorrow. Don't hesitate to take public transport or a detour if you realise the conditions on site are not optimal. In Norway, Scotland and Ireland, the weather can change quickly and is hard to predict. Because of the geography, you will encounter lots of tunnels in Norway; some are ok for cyclists to ride, but some are forbidden for safety issues.
Being flexible also means being in a state of mind that we are too often denied in our daily life. Take your time and do what you feel. If you like a place, why not spend more time there than planned? And if a promising place is not so exciting, then no reason to linger. 
Of course, every cyclist is different. It is also up to you to know what works best for you. So, here's the main tip: listen to your body and mind!
"There is no bad weather, only bad clothing."
This Scandinavian proverb applies here. Of course, it will depend greatly on when and where you are cycling, but warm and rain- and waterproof clothes are always useful while on EuroVelo 1.
Even in summer, Norway can be pretty chilly, and you may encounter windy evenings when cycling near the Atlantic Coast in France or Portugal. You will be glad to have a sweater as you look at the sun set over the ocean.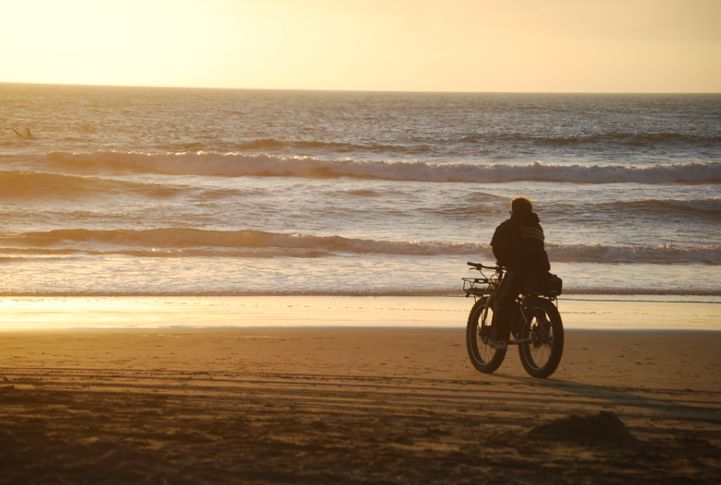 Take waterproof clothing regardless of your destination. Even if it is more likely to have rainy days in Ireland than in Spain, you can never be sure, and getting wet can easily ruin your day on the saddle.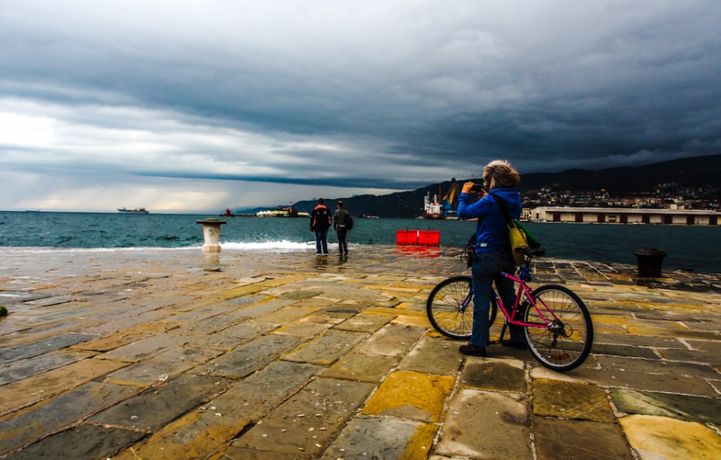 Bikepacking is all about having the minimum amount of luggage. The best thing is to go for quality over quantity, i.e.: you will pay more but will have less to carry. Invest in good clothing, such as jerseys made from merino wool, which can be worn for days without smelling, and technical clothes that are warm but light and small when packed. 
Warm and waterproof clothes are important but who said you couldn't be stylish when cycling? Get a EuroVelo Cycling Jersey and support the development of the network!
Being all cosy at night
If you are planning to camp, choose your sleeping gear carefully. It should be waterproof and warm if cycling in the northern stages of EuroVelo 1. Your nights will be much more comfortable if your tent is mosquito-proof and, if you are cycling in Norway, also midge-proof. And remember your sleeping mask if you want to be able to sleep under the midnight sun!
It is a good idea to look for camping and fire regulations beforehand. In Norway, the rule allemannsretten or "right to roam", has been an essential part of the Norwegian way of life for decades. If you respect the few rules, you should have no problem camping there, and it will save you lots of money. Accommodations in Norway are often expensive, and it can be hard to be hosted by locals due to the low population density. Also, you usually have the right to fish for your own consumption and pick up berries and mushrooms in the forest (provided that you know what is edible or not!). Be careful to take the right cooking gear with you, since open fires are usually forbidden from April to September.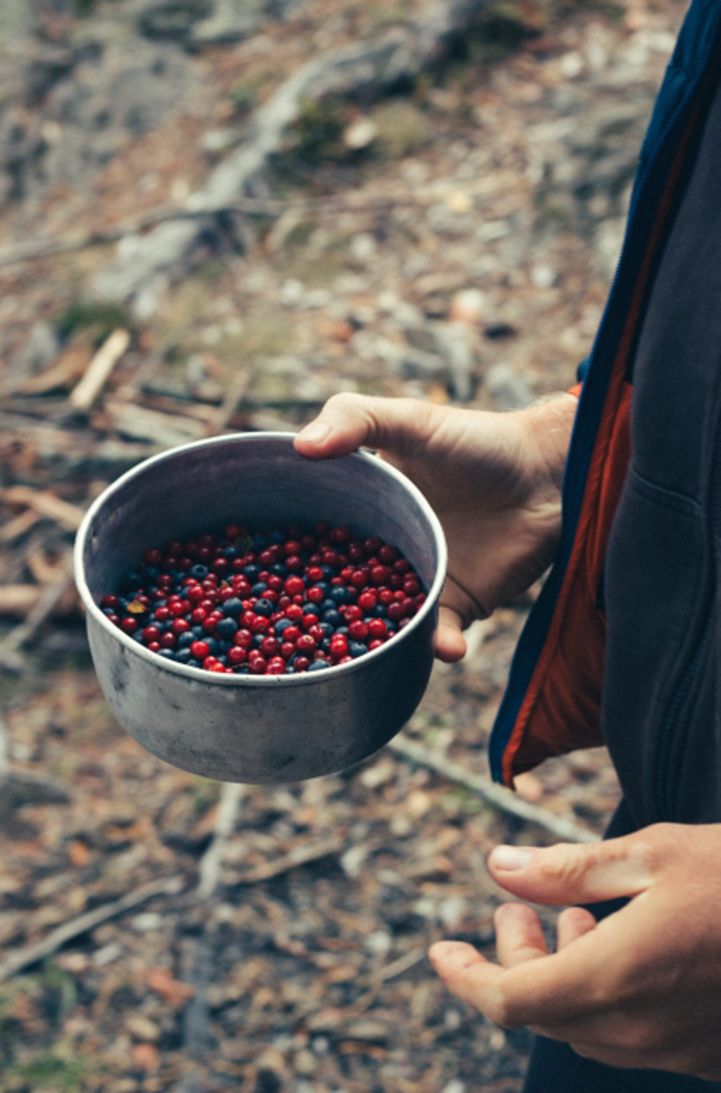 In Scotland, freedom to roam is also well established, so don't hesitate to camp. Of course, if you want to enjoy more comfort after a day up and down the hills, you can choose to stay in a cosy Bed & Breakfast. 
However, there is no real right to roam in the United Kingdom, Ireland, France, Spain and Portugal. It is better to look for a proper camping area or another accommodation. In more populated countries, you can also try to be hosted by inhabitants: there are different apps to establish contacts such as Warmshowers (especially made for cyclists), Welcome To My Garden for hikers and cyclists, or Couchsurfing, but you can also try the old approach of just knocking on doors: maybe it will work!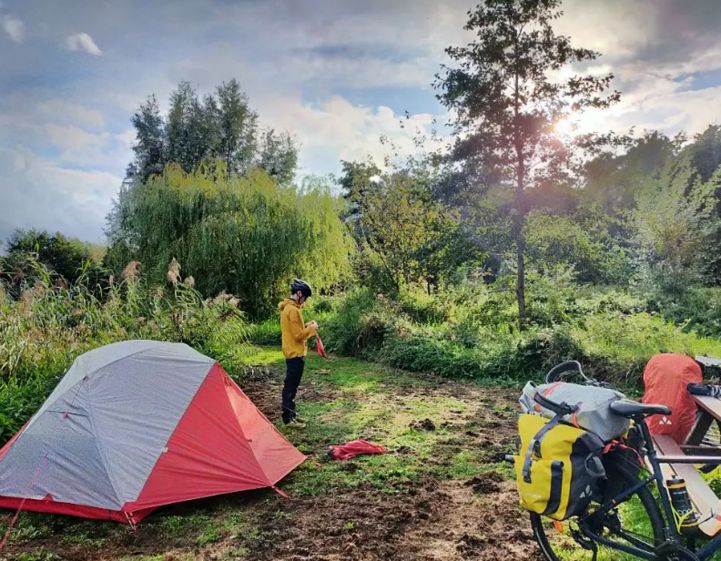 Home Training
Now you have everything: itinerary, two-wheel companion, clothing, and sleeping gear. And yet it is your first bikepacking trip, and you don't feel ready at all (or it is the 20th time you are doing it, but you are still feeling anxious like a kid before back-to-school day). It might ease your mind to do home training. Pack everything, leave for the day, go home and pitch your tent in the garden. It's an excellent way to know if you have everything you need, that the weight is manageable and that you know how to use your gear. 
You are now ready to cycle along EuroVelo 1 - Atlantic Coast Route. Last piece of advice: be mentally prepared. Some days will be rougher, and you may find yourself changing a tire under heavy rain. But it will be well worth the experience, the sights, and the amazing nature and people along this beautiful route. If you are prepared to take up the challenge, you are ready to go. And here's the best tip: trust yourself!
Cover picture: EuroVelo 1 in Ireland
Article by Eulalie Ollivier